4Sleep was started by a husband and wife pair looking to bring "the wonders of a memory foam mattresses to the masses." This online retailer with years of experience in the foam industry is bringing that expertise to the mattress world with a focus on achieving the ideal sleep temperature


Cover– The 4Sleep Cooling On Demand cover is made of polyester, viscose, and Lycra. This composition allows for a breathable cover to avoid trapping heat in the mattress. It's pretty thin, meaning you get to directly engage with the memory foam layer underneath it.

Top Layer– The top layer is 1.5" of gel memory foam with a density of 3.5 lb. It is a soft top layer that does a nice job of conforming to the shape of your body as you lie on it. This is also the most important layer for pressure relief, which I take a deeper dive into later in this review.

This layer is also important to the breathability and cooling of the mattress. They use gel memory foam (combined with the breathable cover) to make the mattress sleep as cool as possible.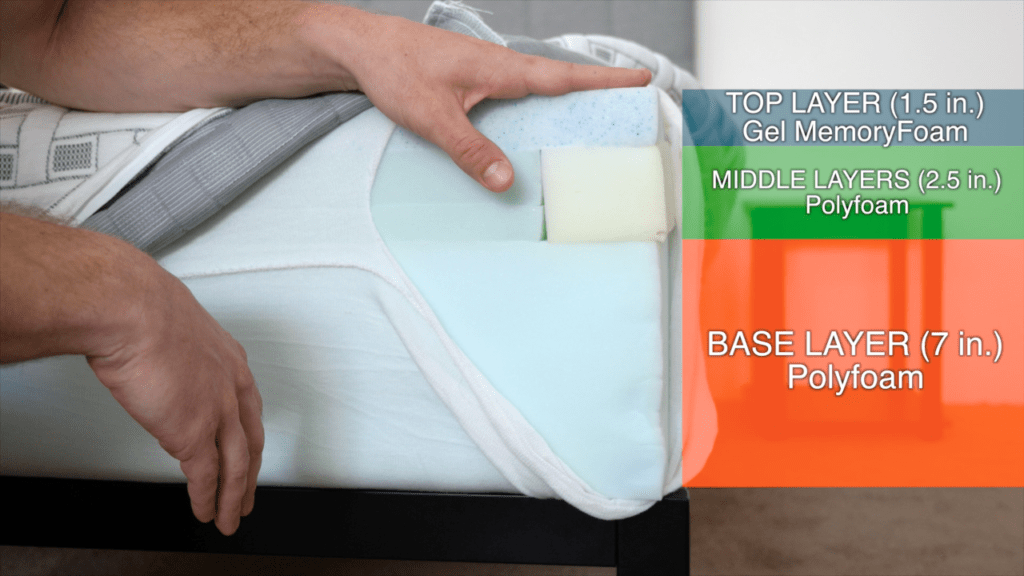 Second And Third Layer– Below the memory foam layer there is 1.5" of polyurethane foam with a density of 3 lb followed by 1" of foam with a 3 lb density. These layers give the mattress some of the bounce 4Sleep is going for and more response than a mattress with only memory foam in the comfort layer. Combined with the top layer, the support layers give good pressure relief while also providing some bounce so you don't feel "stuck."
Base Layer– The final base layer is 7" of 2 lb density foam that acts as the base for the "comfort" layers and adds support for the sleeper as well as durability to the mattress itself. The density of this material is actually higher than the average base layer found in foam mattresses, making the mattress potentially more durable.
Edge Support Layer– 4Sleep mattresses also include a 2.5" edge support layer. This is designed to allow sleepers to roll to the end of the bed without worry of collapsing the mattress. This is beneficial if you plan on using the full surface area of the mattress.
Read Logan's Complete Review on Sleepopolis. Save $75 with coupon code: Sleepopolis at checkout!
(photo via Sleepopolis)